Dear Santa,
Blue Tape Sales is hosting a way-cool sale next Monday and Tuesday and, lucky me, they have e-ver-y thing I want!  So please find my complete list below …
11117 W. 121st Street, Overland Park KS  66213
** just W of Switzer, take Nieman Rd. South to 121st St and go right ~ home is in the first (drummer-boy roll, please) cul-de-sac on the left 🙂
MONDAY  ………………….  7:30am to 5pm (bonus hour!)
TUESDAY  ………………..   8am to 10:45am @ 25% off
                                          11am to 2 @ 50% off
** please note we will clear the home for 15 minutes for a cookie break and to regroup the sale before 50% discount 🙂
Let us begin with the rockin' awesome automobiles … and they need love ~
1)  a REDDD 1965 Buick Grand Sport with 109,552 miles on it (reads 09,552 but believe it to have rolled over …)
2)  a REDDD 1963 Triumph TR3B with a mere 76,423
3)  possibly a Blue 2002 PontiacTransAm convertible big ol' dent on the hood, oops.  
Annnnd, a 4-seater brown chocolate leather Theater Seating ensemble (perf for watching ELF with the fam!), a tan Pearson leather sectional couch, cute Ethan Allen secretary, greaaat selection of fun shabby-chic painted wicker chairs and others, a champagne upholstered fainting couch, a natural rattan round bistro table/2 chairs, Stanley hi-boy and side table, many chests of drawers …
TOYZZZ!  Brio trains (approx 35), many bags of Brio track and misc, a Brio (like) train/toy table, TWO Wii game systems (one Spanish version), a Gamecube, an XBox, a PS2 and all sortsa games/controllers, World of Warcraft board game and other WoW stuff, other board games, Star Wars stuff, trucks/cars, LEGOS, Playskool, nice Little Tikes toy chest, lotsof Matchbox-y cars …
lots of collectible Hallmark ornaments with boxes (incl Star Wars, Barbie, & cars), 50+ Longaberger baskets in gift-giving new condition (boxes available!) AND liners AND inserts, over 200 pcs new costume jewelry in bags, a HUGE 2'x2′ basket, a working Hot Point1940's deep freezer, Sansui 4000, Motor Guide boat motor, life-size spoon, fork and knife (wood) …
an awesome pair of Greta Jalk Danish mid-cent chairs, a stunning 8′ wide low armoire chest, nice office furniture incl HON file cabs and a 3 pc curved L black desk,  Canon printer, 4 wood/upholstered seat swivel barstools, 2 wood twin beds, 2 plastic busts/shirt table displays, 2 nice table-display glass/wood cases, cute upholstered chairs, lotsa floor and table lamps …
the absolute coooolest shutters (hinged, with wood frame and metal shutters), vintage RCA radio, and calling all St. Louisans an o.l.d. (unidentified maker) radio with 4 preset buttons printed KMOX, KXOK, KSD, large bag of paintball gear incl 2 Tipperman guns and miscellany, vintage model car kits in boxes, Haan garment steamer, Haan floor steamer, Memorex Karaoke machine in box …
2 black loveseats, black leather chair, a Globe Wernicke four-stack law library unit , a new in box American Bantex K1 Derby Wheelchair, many fun side/end/coffee tables, old 12 cubby cabinet, nice dining sideboard, octagon glass-top dining table, 8 yellow-washed wood/upholstered seat chairs, 4 upholstered parsons chairs, rush seat chairs, darling wicker vanity/stool,
Ibanez bass with carrying bag, Behringer Bass amplifier, Bushnells digital telescope, Rockband drums and guitars, Casio keyboard with stand, Wilson golf clubs/bag, dehumidifier, lots. of. linens., new Fiskars paper trimmer, Canon copier, lots of framed artwork, Wilson golf clubs/bag, TWO in box 7.5 Christmas trees, home decor GA-lorrrrre, Graco Pac n' Play …
a vintage Western Flyer Sherwood Flyer bicycle, a Hotrock boys bike, a Giant Sedona bike, a Freedom electric scooter (that, unfortunately met it's electrical demise in an unfortunate accident), an unused older model in box Jenn Air cooktop, 2 stain-glass ceiling drop lamps, hammock, lotsa books including a great selection of car books,
Five life vests, Four float belts, Three lake floater seats, Two Super-Soft pool/lake float chairs and absolutely NO partridges in Pear Trees, not in birdcages, nor taxidermied (sp?) though wait-a-minuuuute … we have a decent selection of Beanie Babies so ya may score one there to complete your 12 Days Holiday Decor.  Lucky you.
3 floors, wall-to-wall, floor to ceiling and everywhere in between … and TWO Hold tables!  
Now the practical stuff: No Parking in the culdesac.  And no where on this entire planet does it make sense to park in the middle of the culdesac … it makes my head spin and start uttering words in multiple languages and gives me a strong urge to raise prices. Thank you 🙂  Checks are accepted with approval and ID and cash, like always, is celebrated like the Marching Cobras at a Festival.  Front door entry.  And just for auld lange syne, puh-leeez remember to bring proper and capable help to move your large purchases. 
Nancy ~
   and the Holliest, Jolliest A Team in allll the land 🙂
         Tina, Paula, Sue, Trish, Diane, Carole and Shannon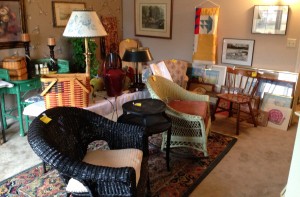 Here is a map of the sale!